My novels
One night in November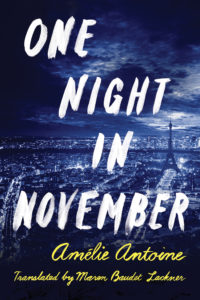 Abigaëlle, Philippe, Sofiane, Bastien, Léopold.
Margot, Daphné, Théo, Lucas, and Romane.
Ten people whose lives were to be turned upside down at the Bataclan concert hall in Paris on 13 November 2015.
The characters in this story are all fictional ones – they have been imagined, invented, yet they might be familiar to you for they are all of us.
This is a novel indeed, but it is first and foremost a tribute to all those that were assassinated that night.
One Night in November
is not an eyewitness account – but it aims to bear witness to the most intolerable reality.
RELEASE IN JULY 2017
– – – – – – – – – – – – – – – – – – – – – – – – – – – – – – – – – – – – – – – – – – – –
SOME REVIEWS :